Come, Let's Make a Difference and Change The World
Our client's challenges and pain points are diverse and unique. We need a diverse team to provide unique solutions to these problems. Come visit your place at CG Global where cultural diversity flourish!
We are a small firm with big heart. We need exceptional talents with awesome personality to deliver our vision and make our mission successful. We bring the attention to details of a small firm with domain expertise and innovative environment of forward-looking employer. Diversity, Equity & Inclusion are business imperative at CG Global, we are for the underdogs, no matter your background, come grow with us and be authentic.
We faster strong relationships with each of our stakeholders based on our core values of:
Sustainability
Technological Innovation
Transparency
Ownership
Equality
Security
Giving Back & Acting Together
Our mission is to change the world no matter how little it is, as long as it is one positive impact after another. At CG Global, we will provide a conducive environment that's rewarding for you to positively contribute to causes you care about personally.
Our culture and values transcend differences in age, gender, race, ethnicity, religion, and sexual orientation. Diversity, Equity & Inclusivity (DEI) isn't just the right thing to do; it is imperative for positive business results, and it empowers us to build capacities for sustainable innovations. If you are curious enough, driven for success, and passionate, we welcome you to challenge and inspire us.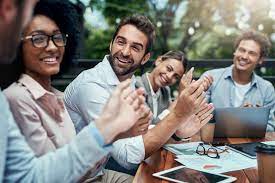 At CG Global, we are successful when we have our client's best interest at heart and deliver top quality services. As part of our culture, we have embedded quality control and quality assurance in our integrated project delivery approach to meet or exceed customer expectations on quality of service, delivering projects that perform according to specification and are in conformance with contract agreements.