The U.S. Department of Energy (DOE) has announced funding of $170 million to support the deployment of clean energy in a way that is equitable and based on community input. This funding will likely go towards supporting initiatives that prioritize the involvement of rural communities in developing and deploying clean energy technologies. 
By seeking public input, the DOE aims to ensure that the transition to clean energy is equitable and beneficial to all tribal nations. These inputs will help
build a more sustainable and clean energy future
for all 'Indian Tribes,' which include Alaska Native Regional Corporations and Village Corporations, Tribal Energy Development Organizations, and Intertribal Organizations. Also, it will have far-reaching positive impacts, such as reducing the nation's carbon footprint, improving public health, and creating new job opportunities for tribal communities.
Now, let us understand exactly what opportunities the DOE has made available for the public to ensure that equity and justice are incorporated into the creation of future programs.
New Funding Opportunities to Deploy the Widespread Use of Equitable Clean Energy
In addition to the historic investments made possible by President Biden's Bipartisan Infrastructure Law and
Inflation Reduction Act
, this funding will assist the Biden-Harris Administration's efforts to strengthen Tribal energy sovereignty and assure Tribal involvement in the country's historic transition to an inclusive and equitable renewable energy future.
1.Funding for deploying Clean Energy and Electrification of Tribal Buildings and Lands
The U.S. Department of Energy (DOE) unveiled $35 million in fresh funding opportunities for the installation of clean energy technology on tribal lands and the supply of electricity to unelectrified tribal buildings. Out of this $35 million,
$20 million is allocated to Indian tribes for the deployment of clean energy infrastructure on their tribal lands.
And, under the conditions of the Funding Opportunity Announcement (FOA), the DOE Office of Indian Energy is accepting applications from Indian tribes to:
Install energy-efficient measures and clean energy-generating systems for tribal buildings. (Area of Interest 1).
Install community-scale renewable energy generation or energy storage facilities on tribal lands. (Area of Interest 2).
Install an integrated energy system (or systems) that can operate autonomously (apart from the conventional centralized electric power grid) to power one or more crucial tribal facilities in times of emergency or to increase the resilience of the tribal populations. (Area of Interest 3).
$15 million is allocated toward installing integrated energy systems or other energy infrastructure in unelectrified tribal buildings. (Area of Interest 4).
For all areas of interest mentioned above, CG Global offers robust solutions for the country's mission-critical infrastructure, programs, and facilities. We specialize in
Construction Progress Schedule, Construction Quality Management, and Drone Technology
, Platform for Photography & Videos of Construction Progress.
2.Fellowship for Low-Income Community
The DOE introduced the Low-Income Community Solar and Energy Assistance Fellowship, which allows energy experts to collaborate with local and state agencies. Under this fellowship, low-income households will have access to community solar subscriptions that feature confirmed savings and consumer protections.
Also, fellows will assist in creating and testing the Community Solar Subscription Tool (created by DOE and the U.S. Department of Health and Human Services) at host organizations in one of the three pilot locations (the District of Columbia, Illinois, and New Mexico).
This tool will allow homes participating in government-run low-income support programs like the Low-Income Home Energy Assistance Program (LIHEAP) to receive community solar subscriptions.
3.Affordable and Equitable Electrification Solutions
The Building Technologies Office (BTO) created the American-Made Equitable and Affordable Solutions to Electrification (EAS-E) Prize, which will award $2.4 million in cash prizes and vouchers to innovators for technical help that makes the electrification process simpler for implementers and contractors.
There are two phases to the EAS-E Prize. During Phase 1, teams will submit a concept paper outlining how their approach will deal with affordable electricity. And in Phase 2, teams will assess the market and commercial viability of the proposed solution and present working prototypes.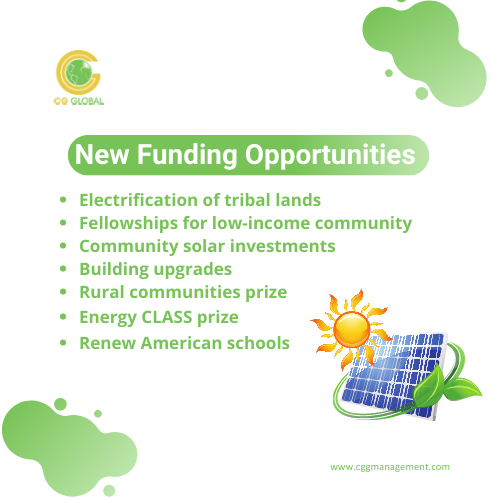 4.Boosting Community Solar Expenditures
The $10 million American-Made Community Power Accelerator Prize is created to support several thriving community solar projects by accelerating the learning, participation, and business growth efforts of new, emerging, and growing solar developers and co-developers. 
Developers and co-developers can access funding and services, such as training, free consultation, and coaching on growing the niche markets for solar developers.
5.Equitable Building Upgrades
The Buildings Upgrade (Buildings UP) Prize, launched by Building Technologies Office, will award more than $22 million in cash awards and technical support to multi-stakeholder teams across America with ideas for boosting equitable building renovations.
Upgrading existing structures to use clean energy efficiently will aid in combating climate change. A few examples of potential solutions include the adoption of energy-efficient electrical devices and appliances, such as heat pumps and heat pump water heaters, as well as efforts to increase building efficiencies, such as insulation and air sealing. Together, these initiatives will contribute to lowering energy use and carbon emissions while enhancing occupant comfort and indoor air quality.
CG Global's
core feature Assetim
is a cloud-based application for inspecting and monitoring asset development and maintenance that offers real-time monitoring, analytical analysis, and reporting of field-based specialized inspection and condition assessment.
6.Prize for Energizing Rural Communities (Pre-Registration phase)
The Office of Clean Energy Demonstrations (OCED) unveiled the $15 million Energizing Rural Communities Prize to encourage people and groups to assist rural or remote areas to improve their energy systems. This award is a component of the $1 billion ERA (Energy Improvements in Remote or Rural Areas) Program. 
And for this prize, two project tracks exist.  
The Partner track, which has a cash prize pool of $10 million, will promote initiatives to link remote or rural areas to government financing, technical support, or a network of partners that may assist with implementing clean energy demonstration projects.
The Finance track, which has a cash prize pool of $5 million, encourages the initiatives to obtain capital or create community ownership models to support the financing of renewable energy demonstration projects in rural or remote places.
The competition is open to people and groups, including business owners, academic staff and student organizations, community organizations, tribal and municipal governments, industry professionals, and financial institutions.
New Funding Opportunities for Schools
Roughly $85 million is announced by DOE in new energy funding opportunities for schools. And this $ 85 million is divided into two categories:
Energy Champions Leading the Advancement of Sustainable Schools (CLASS)
The $4.5 million Energy CLASS Prize assists local education organizations by establishing and training energy managers to find, organize, and implement school efficiency and health improvements. Awards are offered to help with institutional knowledge and staff capacity development.
Renovate American schools! Energy Efficiency Upgrades in Public K–12 Facilities
The Bipartisan Infrastructure Law will provide $80 million to increase energy efficiency, particularly in underprivileged school districts. Individual prizes vary from $500,000 to $15,000,000. The focus areas include cutting-edge energy technology bundles, high-impact energy efficiency, and health enhancements.
In addition to receiving additional funds from DOE, communities have various opportunities to express their opinions and shape the development of future initiatives by responding to the Requests for Information (RFIs) mentioned below;
Support localities where transmission lines are located. 
To assist DOE in implementing a new $760 million Inflation Reduction Act provision, Grants to Facilitate the Siting of Electricity Transmission Lines, the Grid Deployment Office is seeking public feedback.
This RFI solicits suggestions on including equity, energy, and environmental justice concerns in the program design and economic development initiatives for impacted communities.
Best Practices for Home Energy Rebate Programs.
The Office of State and Community Energy Programs is soliciting public feedback on benchmarks for $8.8 billion in new House Energy Rebate programs funded by the Inflation Reduction Act to foster an equitable market for ways to increase the energy efficiency of your home.
Developing Place-Based Innovation Ecosystems. 
The Offices of Science and Technology Transitions are soliciting input from interested parties on place-based innovation initiatives that maximize the use of the Department's National Laboratories and Sites to build regional innovation ecosystems.  
Overall, this investment is an important step forward in ensuring that tribal nations are at the forefront of a clean energy revolution and that they have the resources and support they need to build a more clean and responsible future.
Also, deploying clean energy and electrification for tribal lands and buildings is important in promoting renewable energy development and ensuring that tribal communities have access to the resources and support required to thrive.
And for the successful
implementation of this clean energy technology
, CG Global's team ensures that the physical infrastructure is protected and that vital services continue to run without interruption during and after the project phase. So, collaborate with us to move sustainably into the future.